We are so proud to bring WetSteps to Alabama and the Southeast!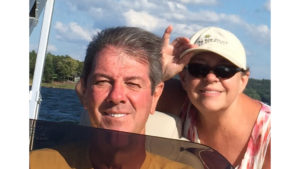 We first came across these incredible dock steps for the first time in September 2016 when Brenda was assisting in the finishing touches of a showcase home for the fall tour on Lake Lotawana. They had stopped the installation for a cocktail cruise and a swim. She fell in love immediately with WetSteps! No pulling up to get out of the water! Handrails! It was like stairs!
We didn't realize God had a bigger plan to utilize this product in her life. For Mother's Day, I gave her shiny red WetSteps! A special friend and I installed it at our little cabin on Lake Martin, Alabama on Sunday before Memorial Day, 2017. The NEXT day she fell off the pier. Knowing it was bad immediately, the WetSteps were instrumental in getting her out of the water without additional injury! The wide 24" steps with handrails were there to help get her out. The fall resulted in 2 fractures to her back with injury to the cervical and lower back. After many procedures and a couple surgeries, we know God used this to direct our path. WetSteps was a MUST for getting into the lake during recovery. After Brenda recovered, we met with the manufacturer and it has been a fun journey ever since!
It is our goal to share this incredible dock ladder so EVERYONE can enjoy the water and provide products that will become 'must haves' for your dock.
We hope YOU will consider WetSteps and our other fun products for your dock!